Mexican Gray Wolf F1226 Turns 5 Years Old!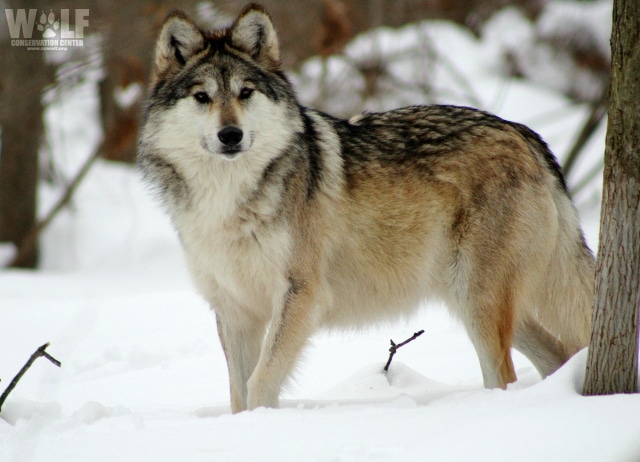 In October of 2015, Mexican Gray Wolf F1226 (affectionately nicknamed "Belle" by the Wolf Conservation Center's webcam watchers) joined the WCC family in order to meet a handsome "husband" – Mexican gray wolf M1133.
The Species Survival Plan (SSP) management group for the Mexican gray wolf determines which wolves should be bred each year by using software developed for the population management of endangered species. This is necessary because all Mexican wolves descended from just 7 founders rescued from extinction. Genetic diversity is the primary consideration in the selection of Mexican wolf breeding pairs and M1133 and F1226 are a great match on paper with an extremely low inbreeding coefficient.
Sometimes saving a species isn't very romantic, but it turns out that F1226 and M1133 are a vibrant, loving, and playful pair that make it look like a whole lot of fun!
The unusually plump (er… big-boned) loba, is really quite stunning. And M1133 is a looker himself! And the attractive twosome bonded effortlessly. The day the wolves were officially introduced, a global audience of webcam watchers witnessed the lovely lobos meet with a kiss!
Their wild chemistry has continued to thrive, so much so that we're hopeful the pair will make a valuable contribution to the recovery of their rare species by having pups this season. Here's hoping F1226 celebrates her 5th birthday by making a priceless contribution to the recovery of her rare species by becoming a mother!
Happy birthday, Mexican wolf F1226!