It's #LoboWeek – Celebrating A Milestone in Mexican Wolf Recovery

It's safe to come out, lobos… #LoboWeek begins today!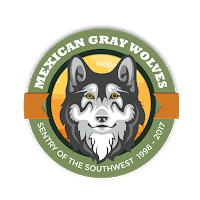 On March 29, 1998, 11 captive-reared Mexican gray wolves (Canis lupus baileyi) were released to the wild for the first time in Arizona and New Mexico. Missing from the landscape for more than 30 years, the howl of the rarest and most unique subspecies of gray wolf was once again greeted by the mountains of the southwest. This March marks the 19th anniversary of this historic event, a significant milestone for the lobo and wildlife conservation.
In recognition of the anniversary, the Wolf Conservation Center is among the rapidly growing group of partners participating #LoboWeek, an international movement to educate people about the Mexican wolf or "lobo" and our efforts to successfully restore this critically endangered wolf to its ancestral home in the wild.
All week long, the WCC will be celebrating the wild anniversary with interesting lobo facts, ways to take action, special events, "Lobo Loot" giveaways and more!
Learn how you can take part in the celebration and download free #LoboWeek photos!