The Life and Times of Mexican Gray Wolf 'Trumpet'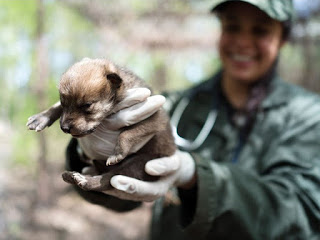 Rebecca Bose holds Trumpet in 2016, when the pup is only a week old.
Meet Trumpet, the adorable Mexican gray wolf pup that is one of the last of her kind.
Born on May 4, 2016 to parents F1143 (Rosa) and M1059 (Diego), critically endangered Mexican gray wolf pup f1505—affectionately nicknamed "Trumpet" for her loud calls—is a beautiful blend of both her parents. F1505 and her family live at the Wolf Conservation Center in New York state, an education and breeding facility that focuses on helping wild wolf populations.
Read her story here.
Originally published March 31, 2017 on Earthjustice.org. This is a guest blog post by Rebecca Bose, curator of the Wolf Conservation Center.