Doubling Down On Efforts to Kill Wolves, Idaho Considers Bait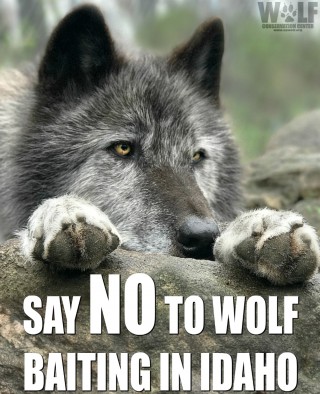 Although no other state allows the use of bait to hunt wolves for trophy, in its ongoing effort to kill wolves, Idaho is considering a new rule that would allow wolf baiting. Since protections were lifted for wolves in Idaho 2011, the state has made clear its intentions to "manage" wolves with a heavy hand. Not only does the Gem State sanction robust trophy wolf hunting/trapping seasons, it also established a state "Wolf Depredation Control Board" on which Idaho budgets $400,000 annually to exterminate wolves, often by aerial gunning, and even in wilderness areas.
TAKE ACTION
Idaho Fish and Game (IDFG) is giving the public a chance to weigh in by accepting comments on the proposed rule until July 26. Please consider taking a few seconds to fill out IDFG's survey to tell Idaho that under NO circumstances should baiting be allowed.
(Check "no" to question 1-3, and "yes" to question 4)
Complete the survey HERE.