Summary of WCC's Red Wolf and Mexican Gray Wolf Breeding Plans/Transfers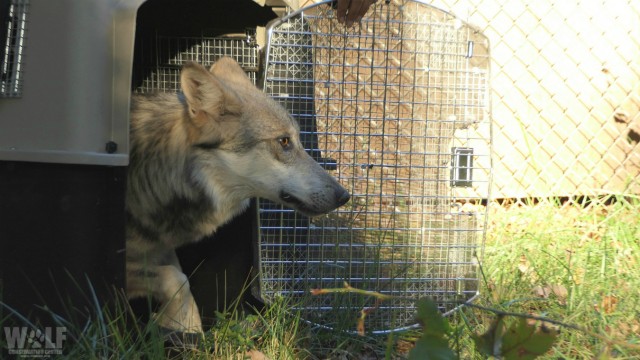 Mexican gray wolf M1564 (LighHawk) arriving at the WCC
Hello everyone,
The Wolf Conservation Center participates in the Species Survival Plan (SSP) for two critically endangered wolf species, the Mexican gray wolf (Canis lupus baileyi) and the red wolf (Canis rufus). The Mexican gray wolf and the red wolf are among the rarest mammals in North America; both species were at one time extinct in the wild.
While the WCC has been a vocal and visible advocate in trying to secure protections for critically endangered wolf species, we have also naturally been quite active in physically safeguarding the representatives of the rare species that have been entrusted to our care.
Organizations participating in the SSP are tasked with basic husbandry, collaborating in the carefully managed captive breeding program, recommendations for release, and research.
This work is literally "behind the scenes" as visitors rarely get to see the wolves because they are generally kept off-exhibit to maintain their healthy aversion to humans.
This winter promises to be an exciting one as it features not only our normal husbandry, but also five breeding pairs (three Mexican wolf pairs and two red), collection of genetic material, and even an extraordinary medical procedure.
Because the entire existing populations of Mexican wolves and red wolves are derived from such a limited founding populations (just 7 individuals for the Mexican wolf and 14 for the red wolf), genetic health is the primary consideration governing decisions re: reproductive pairings and captive-to-wild release events. It is also the reason that the SSP programs for both wolf species pursue extraordinary conservation measures to save these species including semen collection, gamete cryopreservation, and artificial insemination (AI).
Below is a summary of the red wolf and Mexican gray wolf breeding plans and transfers.
RED WOLVES
Breeding Update:
Receive red wolf parents M1784 and F1858 along with their pups m2206, m2208, f2210 and f2211 from the Museum of Life and Science. The parents will be given an opportunity to breed again this year to produce multigenerational pack. We have not determined which enclosure the family reside in at this time.
Red wolf F2121 (Charlotte) will leave her siblings to be paired with red wolf M1606 from USFWS's Sandy Ridge facility in North Carolina. They will be given an opportunity to breed.
Transfers:
Red wolf M2116 (Redford) will be transferred to the Binghamton Zoo at Ross Park to breed. I do not know the name or studbook number for the female. More about the Binghamton Zoo and red wolves (from 2014): http://rossparkzoo.com/red-wolves-added-to-wolf-woods-exhibit/
Red wolf F1568 (Argo) was be transferred to Mill Mountain Zoo, VA, to be a companion her brother, M1566 (Smokey)
Red wolf M1803 (Moose) was transferred to the Museum of Life and Science in Durham, NC where he will be paired with a female (I do not know the name or studbook number for the female) for breeding.
MEXICAN GRAY WOLVES
Breeding Update:
Mexican gray wolf F1505 (Trumpet) will remain at the WCC and leave her parents to be paired with two-year-old Mexican gray wolf M1564 (LightHawk) for breeding.
Mexican gray wolves M1133 (Rhett) and F1226 (Belle) will be given an opportunity to breed again, however, this time via artificial insemination (AI). Because the yearlings are reaching sexual maturity, the males and females will need to be separated for breeding season. We're utilizing AI for breeding, as an alternate to permanently removing the yearlings from the family. If successful, the family will accommodate three generations of offspring.
Mexican gray wolves M1198 (Alléno) and F1143 (Rosa) will be given an opportunity to breed again. Last year the pair was given the opportunity via AI. This year Rosa and Alléno will be paired physically.
Other Changes:
Mexican gray wolf M1059 (Diego) will join Mexican gray wolf F1435 (Magdalena) and reside together (still at the WCC) as companions only.
SUMMARY
Saying Goodbye…

So, this season we're welcoming some new wolves (red wolf family, red wolf male, Mexican gray wolf male) and also saying goodbye to others (red wolves Redford, Moose and Argo). Saying goodbye is never easy, however, we honestly believe Redford, Moose and Argo will find better opportunities in their new homes. Argo was with her dear brother Smokey. Redford will no longer be ranked lowest in the family hierarchy – at his new home he'll be "top dog" and with a lady! And then there is Moose. Beyond granting an opportunity for Moose to breed again, his departure gives him a chance to be social again. Moose was born at the WCC in 2010. It is very unlikely that Moose will ever welcome a new mate if he remains at the WCC – he's just too territorial when it comes to his home turf. So, by letting Moose go, we're not only giving him a chance to support the recovery of his rare species via more potential pups, we're also giving him a chance to love and be loved again by other wolves.

Diego and Rosa

Splitting up Diego and Rosa is the toughest pill for us to swallow. Last year we tried to allow the two to be paired with wolves who are a better genetic match via AI attempts. However, because we cannot count on AI to be as successful as a real breeding event, the Mexican Wolf SSP decided that Rosa and Alléno should be paired because their potential pups are critical to enhancing the genetic health of the captive population. The good news is both Rosa and Alléno will remain at the WCC and they will be given the opportunity to find love and companionship with new partners.

Get Ready
Hold on to your seats… next spring we can potentially welcome 5 litters. Just imagine… Mini Trumpets! Mini Charlottes too! Trumpet half siblings! And more lovely little lobos with darling overbites (pups from Belle and Rhett).
Big thanks to all of you for watching. Your passion for wolves and wonderful support are among the reasons we love having you as members of the WCC pack!
~ Maggie Howell, Wolf Conservation Center Executive Director