Pilots to the Rescue Making A Difference for Endangered Wolves

South Salem, New York, December 17, 2017 — Santa isn't the only one taking to the sky to make special deliveries this season! Pilot and engineer Patrick Lofvenholm might not be flying by sleigh and magic reindeer, but his contribution to the red wolf recovery program is better than anything that can fit under a tree.
Lofvenholm's precious cargo is "M1606", a captive red wolf from U.S. Fish and Wildlife Service's Sandy Ridge facility in N.C.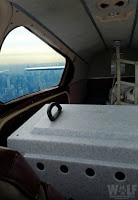 Wolf Conservation Center (WCC) curator Rebecca Bose met Lofvenholm at Raleigh-Durham International Airport early Sunday morning to load the wolf onto his light, twin-engined piston aircraft for transport to Westchester County Airport in White Plains, New York.
The critically endangered fellow will be paired with F2121 (a.k.a. Charlotte), a red wolf who currently resides at the WCC in NY, in hope that they will make a priceless contribution to the recovery of their rare species with pups next spring.
The Species Survival Plan (SSP) management group for the red wolf determines which captive wolves should breed each year by using software developed for the population management of endangered species. Genetic diversity is the primary consideration in the selection of red wolf breeding pairs because all red wolves descended from just fourteen founders rescued from extinction.
This is not the first rescue mission for Lofvenholm, for close to 10 years the dedicated pilot has been helping canines in need by transporting dogs rescued from kill-shelters to safe havens or forever homes. Lofvenholm is a member of the wonderful team at Pilots to the Rescue (PTTR), a volunteer-based non-profit aviation organization that donates flights to make a difference for animals.
"We are excited to be working with the Wolf Conversation Center in transporting this critically endangered passenger," said PTTR founder Michael Schneider. "Pilots to the Rescue has generally been involved in dog rescue so this is a welcome pivot with our organization. We recognize the grave situation that the red wolf population is in and we want to contribute to saving these animals. After all, without wolves where would the common domestic dog be?"
BACKGROUND
The red wolf (Canis rufus) is the only wolf species found completely within the United States. Once common throughout the southeastern United States, red wolf populations were decimated by the 1960s due to intensive predator control programs and loss of habitat. In 1980, U.S. Fish and Wildlife Service (USFWS) declared red wolves extinct in the wild after the last wild red wolves were gathered to survive in captivity. With the support of the Federal Red Wolf Species Survival Plan, a national initiative whose primary purpose is to support the reestablishment of red wolves in the wild through captive breeding, public education, and research, and under the aegis of the Endangered Species Act, red wolves were reintroduced in North Carolina in 1987. They were the first federally-listed species to be returned to their native habitat, and have served as models for other programs.
The current estimate puts the remaining wild population at their lowest level in decades. As of summer of 2017, only 28 known wild red wolves remained.
# # #
Pilots to the Rescue's mission is to save potential pets facing euthanasia utilizing an advanced rescue flight system. Enrolling a network of trained pilots, shelters, ground teams and veterinarians, PTTR flies these little souls filled with unconditional love giving them a second chance for a forever home. Pilots to the Rescue is a registered 501(c)(3) non-profit all volunteer organization (IRS EIN: #47-3415146).

The Wolf Conservation Center is an environmental education organization committed to conserving wolf populations in North America through science-based education programming and participation in the federal Species Survival Plans for the critically endangered Mexican gray wolf and red wolf. Through wolves, the WCC teaches the broader message of conservation, ecological balance, and personal responsibility for improved human stewardship of our World. For more information, visit www.nywolf.org.