Happy birthday to WCC Ambassador Wolf Nikai!

Four years ago today… this guy happened!
Nikai (meaning "Little Saint" or "One Who Wanders") is a gray wolf who joined the Wolf Conservation Center family in May of 2014. Born on April 13, 2014, Nikai quickly wiggled, hiccupped, and howled his way into the hearts of WCC staff and supporters.
Nikai resides in one of the WCC's on-exhibit enclosures with his older siblings, Zephyr and Alawa, and assists with science-based education programming. He serves as a representative for his wild kin, allowing visitors, webcam watchers, and social media followers to form connections with animals they might never otherwise see.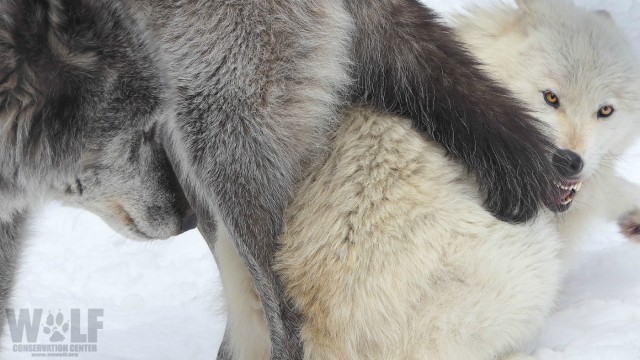 But although the handsome four year old capably fulfills his professional role, he's also quite the mischievous troublemaker! Always up for some fun, Nikai can often be observed trying to entice his siblings into a quick game of chase but he's also perfectly content playing on his own. Lucky webcam watchers once glimpsed Nikai playing with toys – how ingenious!
Happy birthday, Nikai! Howls of thanks for your tireless, and sometimes hilarious, efforts to create a better world for wolves!