Endangered Mexican Wolf Pups Named for Female Conservationists!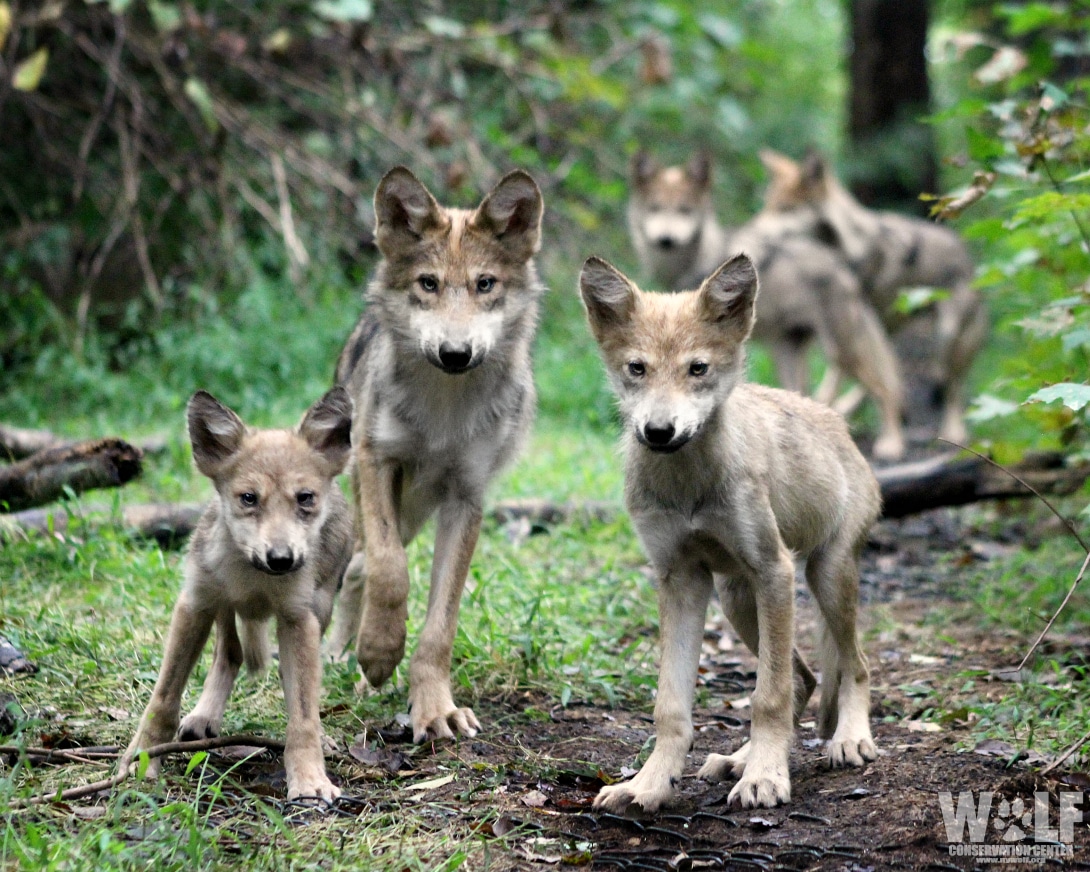 In May 2018, Mexican gray wolf F1143 (Rosa) made a crucial contribution to the survival of her rare species when she quietly gave birth to a litter of nine pups. Over the last few months, we've watched these pups blossom into curious, spunky individuals, each with their own unique personality and appearance. We've witnessed the tenacity of the "tiny twosome," were privy to some seriously cute cuddle piles on their den, and heard their high-pitched howls!
What better way to honor their fierce personalities than with equally fierce names? Meet Craighead, Mittermeier, Lek, Carson, Goodall, Beattie, Diane, Hélène, and Bria! Each little lobo has been "named" in honor of a female conservationist who works tirelessly to protect and preserve wildlife.
f1753 (Hélène) – The WCC was founded by Hélène Grimaud, a classical pianist and dedicated wolf advocate. Through her continued work with the WCC, Hélène has influenced generations of individuals and has helped people realize that rather than fearing wolves, we should work to learn about and protect them.
m1746 (Craighead) – There is perhaps no more well-known conservation author than Jean Craighead George. Author of over 100 books about endangered species and wildlife, Craighead George made children of all ages (and adults too!) fall in love with nature through her vivid depictions of alligators, bears, and wolves (among others).
m1747 (Mittermeier) – Conservation can be performed in many ways but one of the most captivating is through digital storytelling. National Geographic photographer and Sea Legacy co-founder Cristina Mittermeier has amassed hundreds of thousands of followers through her work depicting endangered species and indigenous peoples around the world. By putting a face to these imperiled animals, Mittermeier is able to inspire and motivate action in her followers.
m1748 (Lek) – Lek Chailert is the founder of the Elephant Nature Park in Thailand, a sanctuary for elephants. The organization advocates for the humane treatment of elephants and is recognized as an international voice in animal welfare. Chailert was recognized in 2010 as one of six Women Heroes of Global Conservation and was named one of Time Magazine's Heroes of Asia for her dedication to elephant welfare.
m1749 (Carson) – Many of today's environmentalists and conservationists were inspired to join the environmental movement because of books such as Rachel Carson's Silent Spring. Carson's career as a scientist with the US Fish and Wildlife Service allowed her expose countless individuals to the world of science and environmental preservation.
m1750 (Goodall) – For many, the first name that comes to mind when presented with the word "conservationist" is Jane Goodall. Dr. Goodall revolutionized the animal behavior world with her intensive studies of chimpanzees, including her discovery that chimpanzees make and use tools. She's expanded her impact into various conservation initiatives, including founding the Jane Goodall Institute and Roots & Shoots, a program designed to foster a new generation of conservation leaders.
mM1751 (Beattie) – Mollie Beattie was the first female Director of the US Fish and Wildlife Service, and strived to conserve endangered species by managing landscapes and ecosystems. Under her supervision, gray wolves were reintroduced into the northern Rocky Mountains and 15 national wildlife refuges were added. According to Beattie, "what a country chooses to save is what a country chooses to say about itself."
f1752 (Diane) – "Though she be but little she is fierce." ~William Shakespeare
F1752 is one of the most recognizable pups in her litter, due to her petite stature and extra-large personality, and her namesake shares her most distinguishing qualities. Diane Bentivegna is a former public school educator with over 30 years of experience but she's certainly left her mark on the conservation world as well. As an advisor to the WCC, Diane has dedicated her life to preserving our nation's wildlife for future generations.
f1753 (Bria) – Conservationists come in all shapes, sizes, and ages. Our youngest honoree is only 12 years old but, through the sale of her endangered species artwork, Bria Shay Neff (Faces of the Endangered) has raised over $34,000 for various conservation organizations. Neff has painted over 250 endangered species and landscapes, with each work highlighting the devastating impact of habitat loss, deforestation, global warming, poaching and human conflict on wildlife populations.
Show your support for conservation by sponsoring one of these pups! They certainly have big "paws" to fill!