Sunday's Programs at the Wolf Conservation Center Cancelled Due to Weather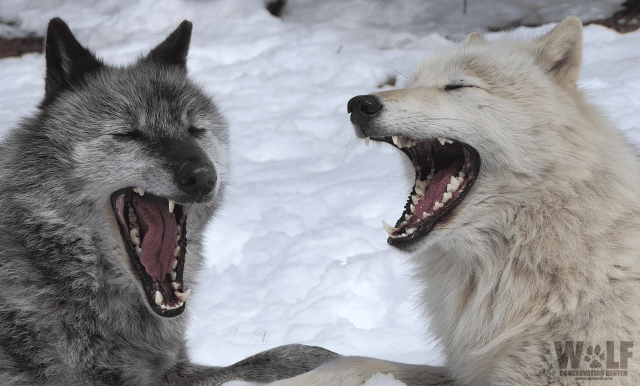 Due to the impending weather forecast, all of Sunday's education programs have been canceled at the Wolf Conservation Center. We apologize for any problems this might create! For those who were registered to attend one of these programs, please reach out by emailing admin@nywolf.org or calling the WCC at 914-763-2373, and WCC staff will happily work with you to either issue a refund or reschedule your group to the program of your choice (pending availability).
The wolves will be hunkered down – you should too!
Love the relaxation that comes with snow days? Wolves do!
When snow falls, wolves chill out, according to a recent study from the University of Alberta. Over two winters, researchers looked at the movements of grey wolves in Alberta in conjunction with data on snowfall in the area.
"We found that on the night that it was snowing, wolves rested more than they traveled, and when they traveled, they traveled slower than on other days when there wasn't any snowfall," Amanda Droghini, one of the researchers involved with the study. Scientists hypothesize that the falling snow could alter wolves' hunting strategies, causing them to resume normal activity the day after the snowfall.
So if you're expecting an upcoming snowstorm, act like a wolf and hunker down!