Winter Mating Season Packs Plenty of Promise For Future Wolves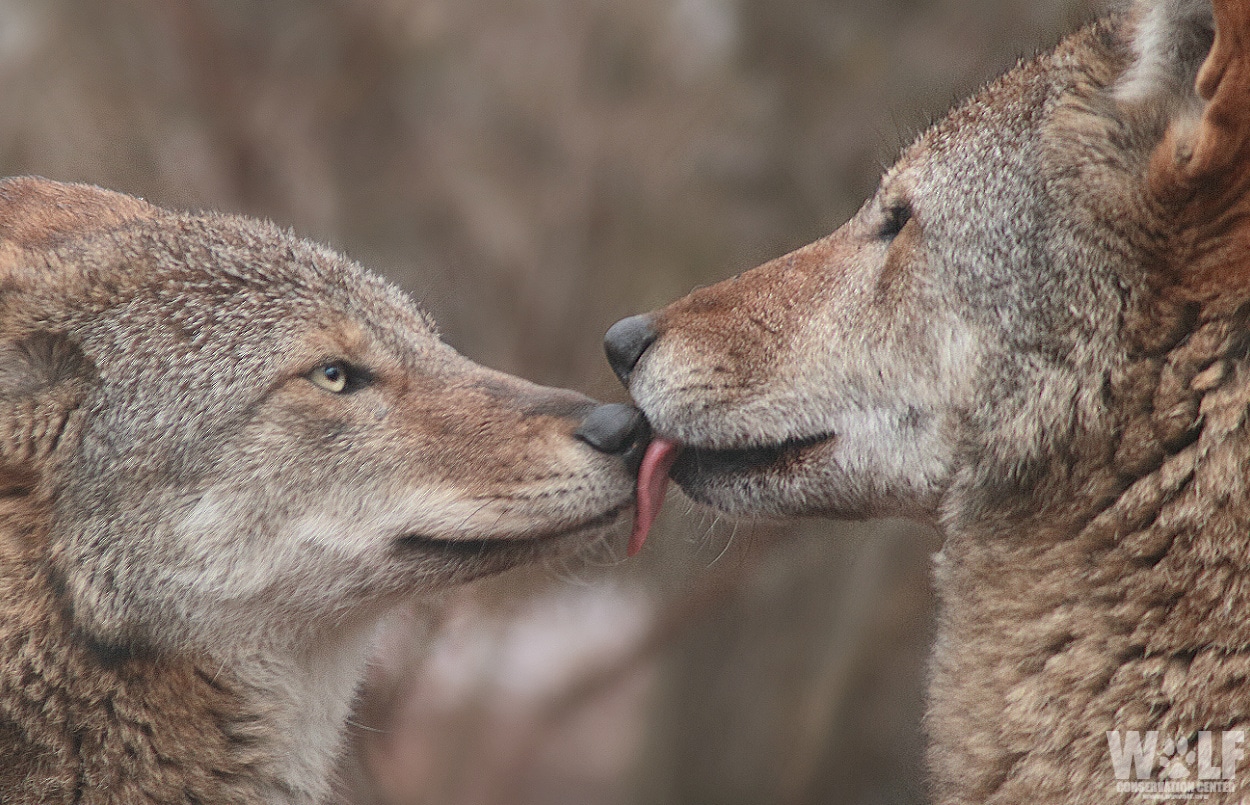 One of the most important factors in rebuilding an endangered population is of course making sure there are more of them! While the WCC has been a vocal and visible advocate in trying to secure protections for critically endangered wolf species, we have also naturally been quite active in physically safeguarding the representatives of the rare species that have been entrusted to our care. The Wolf Conservation Center participates in the Species Survival Plan (SSP), which has recently been rebranded as SAFE (Saving Animals From Extinction) for two critically endangered wolf species, the Mexican gray wolf (Canis lupus baileyi) and the red wolf (Canis rufus). The Mexican gray wolf and the red wolf are among the rarest mammals in North America; both species were at one time extinct in the wild.

Organizations participating in SAFE are tasked with basic husbandry, collaborating in the carefully managed captive breeding program, and recommendations for release, and research. At WCC we currently host 20 Mexican Grey wolves and 10 red wolves within our Endangered Species Facility. Wolves typically breed in winter and depending on the species and location, anytime from late December to as late as April. Wolves are pregnant for about 63 days and usually birth four to six pups.

Genetic health is the primary consideration governing decisions for reproductive pairings and captive-to-wild release events. This year, three wolf couples will have the opportunity to breed at the WCC:
Breeding Pairs
Mexican gray wolves Trumpet (F1505) and Lighthawk (M1564)
Trumpet and Lighthawk have been a very successful breeding pair for three years now. The couple had 3 pups in 2018, 5 in 2019, and then 3 more last year (Crumbo, Sonda, and Buttons). Crumbo was cross-fostered, which you can read more about below, and Sonda is still living with his family here at the WCC.
Red wolves Lava (F2134) and Tyke (M2118)
Lava and Tyke give birth to one pup last spring but the pup sadly passed away soon after due to unknown causes. According to the USFWS, "Based on studbook data from 1980 through 2021, first-year mortality for males and females is approximately 35%; however, in the past 10 years (2011-2021) first-year mortality dropped to 30% for males and 29% for females." While it's always tragic to lose a child, even in the animal kingdom, Lava and Tyke were able to rely on each other for emotional support and are hoping to try again this winter.
Red wolves Jacques (M2152) and Sage (F2061)
This will be Jacques' and Sage's first breeding season together as a pair. They've been living together since September when Sage arrived from USFWS Red Wolf Center in North Carolina, and though it's too early to tell if they'll want to breed together naturally, they have gotten along well as roommates thus far.
Want an inside look at the WCC wolves interacting with each other? Join the wolves anytime via live webcams!
Red Wolf Survival Plans
At one point both Mexican gray wolves and Red wolves were completely extinct in the wild in the United States. While the Mexican gray wolves have bounced back to almost 196 wild wolves as of the 2021 count, Red wolves are down to just 10 known wolves in the wild, and they all reside in a small section of Eastern North Carolina. Given their critically endangered status, many Red Wolves are in captivity across the US with the WCC currently hosting 10 of these rare wolves.
The U.S. Fish and Wildlife Service (USFWS) owns all red wolves in human care, and the populations are managed toward the goal of supporting the reintroduction and conservation of the species in their historical range. As of today, The Red Wolf SAFE managed population consists of 238 wolves (126 males, 112 females, and 0 unknown sex). The WCC joined the recovery effort in 2004 via its acceptance into the Red Wolf SAFE Plan and has played a critical role in preserving and protecting these imperiled species through carefully managed breeding and reintroduction.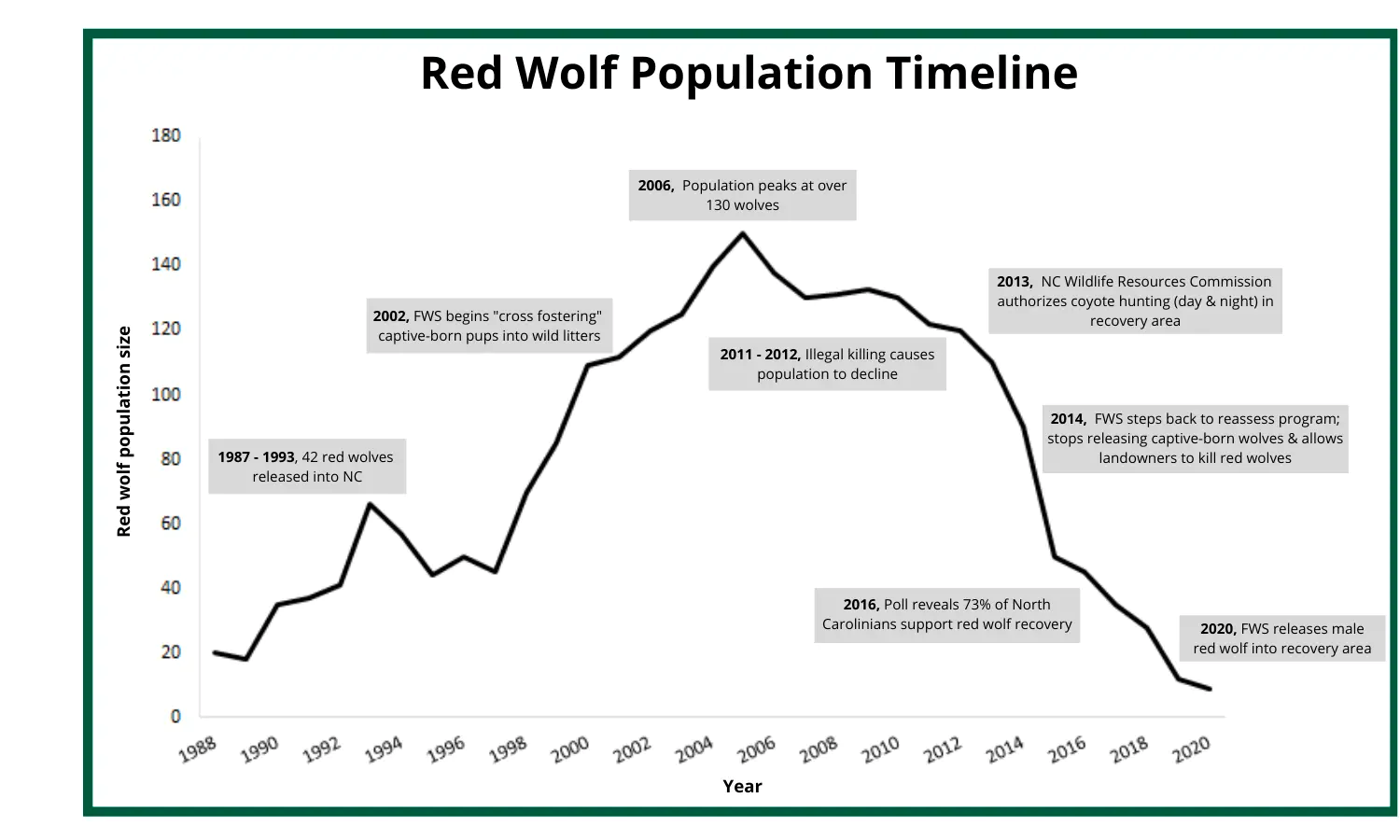 Cross-Fostering Red and Mexican Gray Wolves
A process called cross-fostering has proven to be a viable option to reintroduce both Red and Mexican gray wolves into the wild. The way this works is that a wolf pup may be taken from its biological parents in captivity and placed with a wild pup litter. The wild mother wolf will then take care of the pup like it is her own, and we will have successfully added another wolf to the wild to help with reintroduction numbers. In fact, Mexican Gray Wolves Trumpet and Lighthawk have given birth to several cross-fostered pups, including Crumbo from last year's litter and Hope from the 2019 litter. And guess what? Hope actually ended up with her biological aunt in the wild by coincidence. She was placed with the Saffel pack and the breeding female/mom of that family was in fact her father's sister.
Stay In The Loop
We don't know if any of the above breeding plans will prove fruitful, but we need not wait long to find out. Breeding season will begin soon and the gestation period (length of pregnancy) for a wolf is only sixty-three days. Make sure to follow all our social media channels to get the latest updates as the birds and the bees make their way through the New York trees:
Facebook Instagram Twitter Twitch Linked In
Donate today to help our wolf recovery efforts across North America and beyond.