The Wolf Conservation Center Mourns Loss of Mexican gray wolf Rosa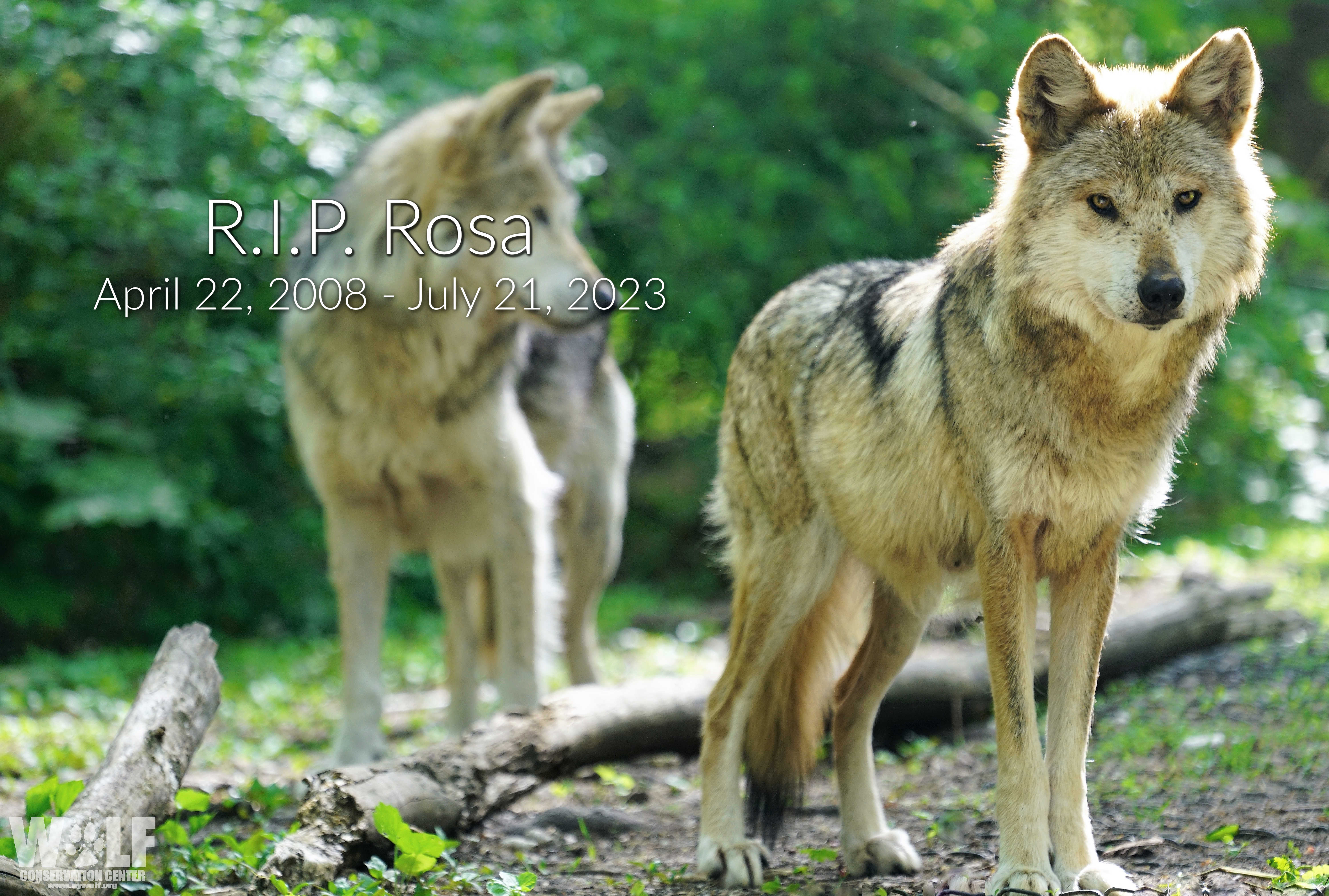 Dear Friends,
In what has been an all too common occurrence this summer with several of our aging wolves completing their life cycle, our community is saddened to share the passing of Mexican gray wolf Rosa this morning at 15 years old.
Rosa follows her former mates Diego and Alléno, who both passed away within the last year and carries with her a legacy of motherhood and grandmotherhood that stretches far beyond her lifetime. Her story began on Earth Day 15 years ago (you can see her as a pup in this video), part of the first litter born at the Wolf Conservation Center, one of eight lobos born that day, cementing their place in our hearts and minds. She was the longest-tenured wolf in WCC history, spending her entire life on-site in South Salem, New York. Although Rosa lived off-exhibit, live-streaming webcams allowed for a global audience to fall in love with the fiercely wild wolf.
Though Rosa never got to experience a wild existence herself, her contributions to the species are unmatched. Initially, she was paired with Diego in 2015, and their love was palpable from day one. Their connection gave the world Trumpet, one of the most popular wolf moms at the WCC, and a contributor to several wild wolves in the form of cross-fosters, including several this past spring. Due to our cooperation with USFWS and the Saving Animals From Extinction (SAFE) program, sometimes pairs are shaken up for the sake of creating genetic diversity among the critically endangered species, and eventually, Rosa was moved to a different enclosure from Diego. This bittersweet decision was emphasized by their howls that carried from one enclosure to the next, but eventually, both moved on, with Diego finding a happy life with Magdalena and then Valentia, and Rosa being paired up with Alléno.
After a 10-year-old Rosa was paired with Alléno, the aging yet spry wolf surprised everyone by birthing nine pups in the spring of 2018, all of whom survived, even the two runts, Craighead and Diane. This success story was an undeniable testament to Rosa's skill and passion as a mother, and this is further emphasized when we consider that every single cross-fostered lobo pup that has been given the chance at a wild existence from the Wolf Conservation Center is in direct lineage from Rosa.
Even though we believe she deserved a chance to live in the wild herself and was never given that opportunity, seven fostered wild wolves are carrying on her legacy for generations to come. That's 3% of the total wild Mexican gray wolf population that can trace a direct line to Rosa!
Rosa leaves behind three daughters at the WCC, Bria, Diane, and Hélène. Her absence will be felt by all, but none more so than Diane, who spent almost every waking minute with her mother. Our thoughts are with her and her sisters.
As we bid farewell to Rosa, we take comfort in the knowledge that her spirit runs wild in the heart of every Mexican gray wolf that carries her bloodline. She gave more than we could ever repay, living a full and impactful life that will echo through generations of wolves to come. Our hearts are filled with gratitude for the joy, resilience, and spirit of motherhood she embodied. Her legacy will continue to inspire us and countless others who have been touched by her story. Rest in peace, dear Rosa. Your spirit will forever run free in our hearts and in the wild where your grandchildren roam.
-The WCC Team