Wolf Conservation Center Mourns Loss of Mexican gray wolf Rhett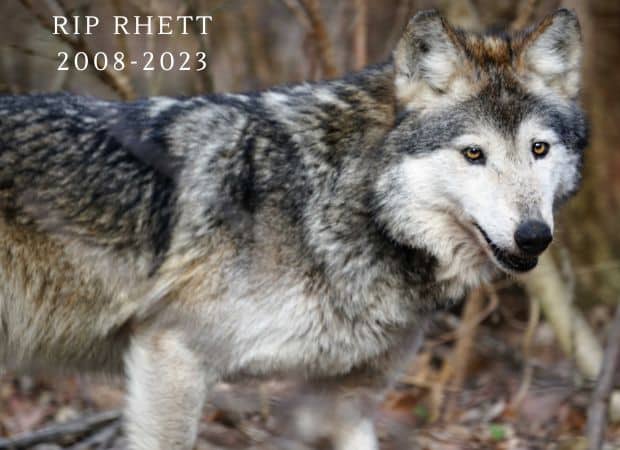 Dear Friends,
Our community is saddened to share the passing of Mexican gray wolf Rhett this morning; he was 15 years old.
Rhett lived a life that many captive wolves could only dream of, spending time in the wild, fathering and grandfathering children, and being adored by countless people that knew him, at his various stops and in online communities. Rhett was born at the California Wolf Center in 2008 and lived at New Mexico's Sevilleta Wolf Management Facility throughout much of his puppyhood. In January 2013 U.S. Fish and Wildlife Service (USFWS) approved the release of Rhett in hopes that the young male would fill a void within Arizona's Bluestem pack created after alpha male M806 was illegally shot and killed on July 6, 2012. Rhett was released on January 8th in the Apache National Forest of east-central Arizona, however, his stint in the wild was short-lived. After just 3 weeks in the wild, Rhett was placed back in captivity. USFWS captured the lobo because he failed to catch the attention of the Bluestem Pack's alpha female.
Shortly after his release, Rhett headed east crossing the state border into New Mexico. When it became clear to USFWS that he was heading increasingly further away from all wild lobos (likely in search of a mate) it was decided that the genetically valuable wolf can better contribute to the recovery of this rare species by being introduced to a mate in captivity. Rhett was then paired with a wild-born female at USFWS' captive breeding center and released again that spring with his new mate F1108. Sadly, the energetic lobo again trekked great distances out of the Mexican wolf recovery area to find himself in poor habitat, and surrounded by human settlements, major roadways, and very little natural prey. Consequently, Rhett was brought back to captivity and lived the rest of his life at the Wolf Conservation Center.
After his two brief stints in the wild, Rhett arrived at the WCC in March of 2014, joining his mother, Bella, and his brother, Diego in New York. After his arrival, Rhett was soon introduced to his hopeful mate, Scarlet. After years of searching for a wild mate, Rhett and Scarlet were slated to create a family together, but Scarlet, unfortunately, passed away unexpectedly in the spring of 2015. During her last days, Rhett showed his loving nature as a companion, providing food for Scarlet and trying to make sure she ate even when she became too weak.
After Scarlet's death, Rhett was introduced to Belle, who he fathered six pups with, Maus, Duffy, and KB in 2016 and Max, Jean, and Nita in 2017. During Belle's first pregnancy, she had some complications in the den, and Rhett was observed pacing back and forth with apparent worry, before bringing Belle a deer head, which she was later observed using as a pillow while she nursed the successful litter. Rhett later became a grandfather, with some of his children having pups at other facilities. He spent his last several years at the WCC with his mate, Belle, and children, Maus, Jean, and Nita.
Rhett lived the full spectrum of what it means to be alive, he was an adventurer, in a world that has become too mapped out and monitored for a wolf to roam where he pleases. He was a lover and companion, leaving a legacy behind physically, in the form of his children, and in the stories we remember, of his compassion and love towards the rest of his pack. He's a clear case of why we feel such a duty to protect Lobos, one of the most critically endangered mammals in North America, and Rhett was a perfect example of what the world would be missing should we fail.
As we bid farewell to Rhett, we think of Belle and the various folks who have supported his highs and lows over the last 15 years. His compassion and sense of adventure will continue to resonate far and wide and we will continue the fight to safeguard the wild legacy he leaves behind.
RIP, Rhett. We miss you already.
-The WCC Team