Wolf Awareness Week 2023: Big News, Great Promotions, and Educational Sessions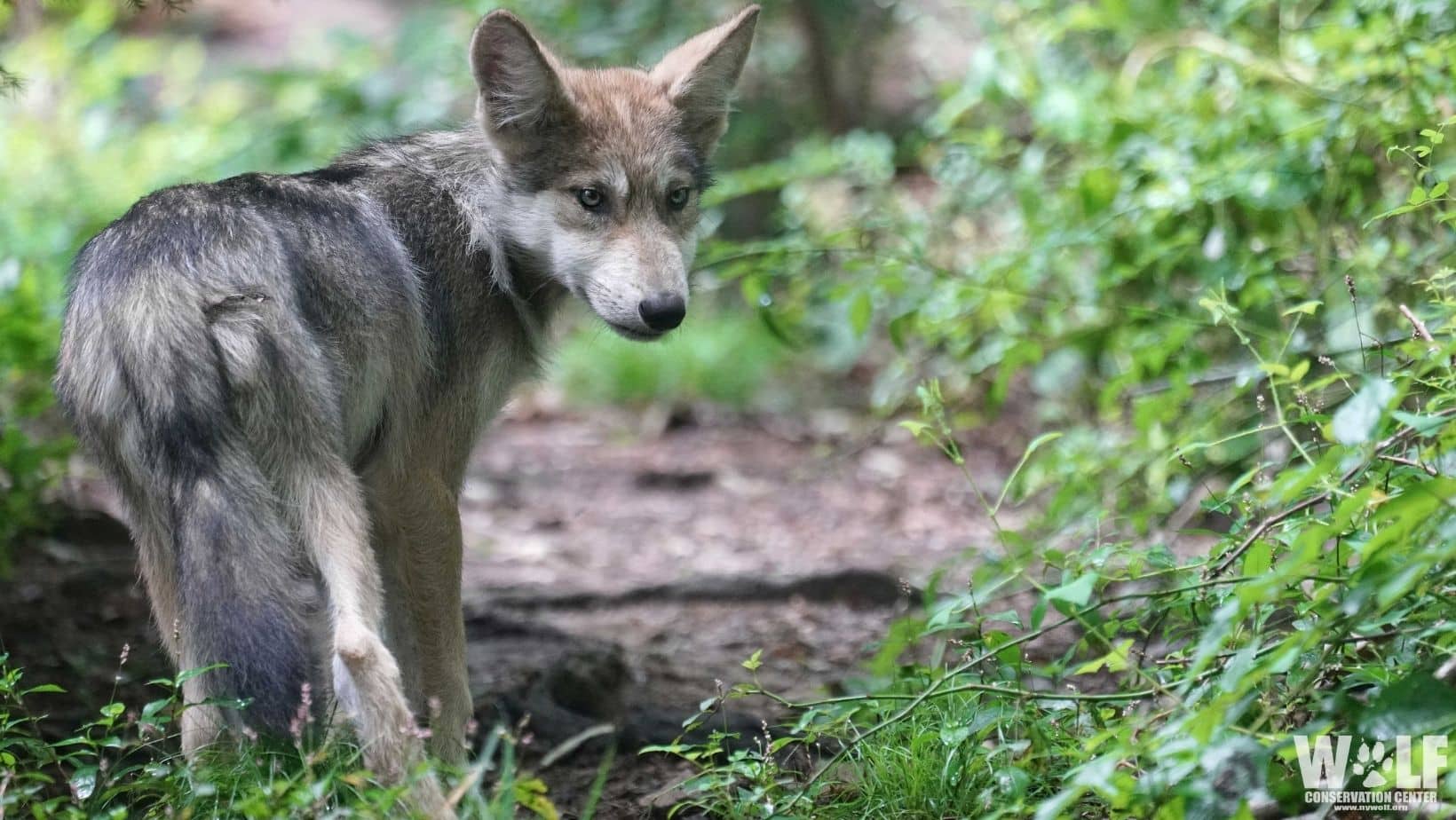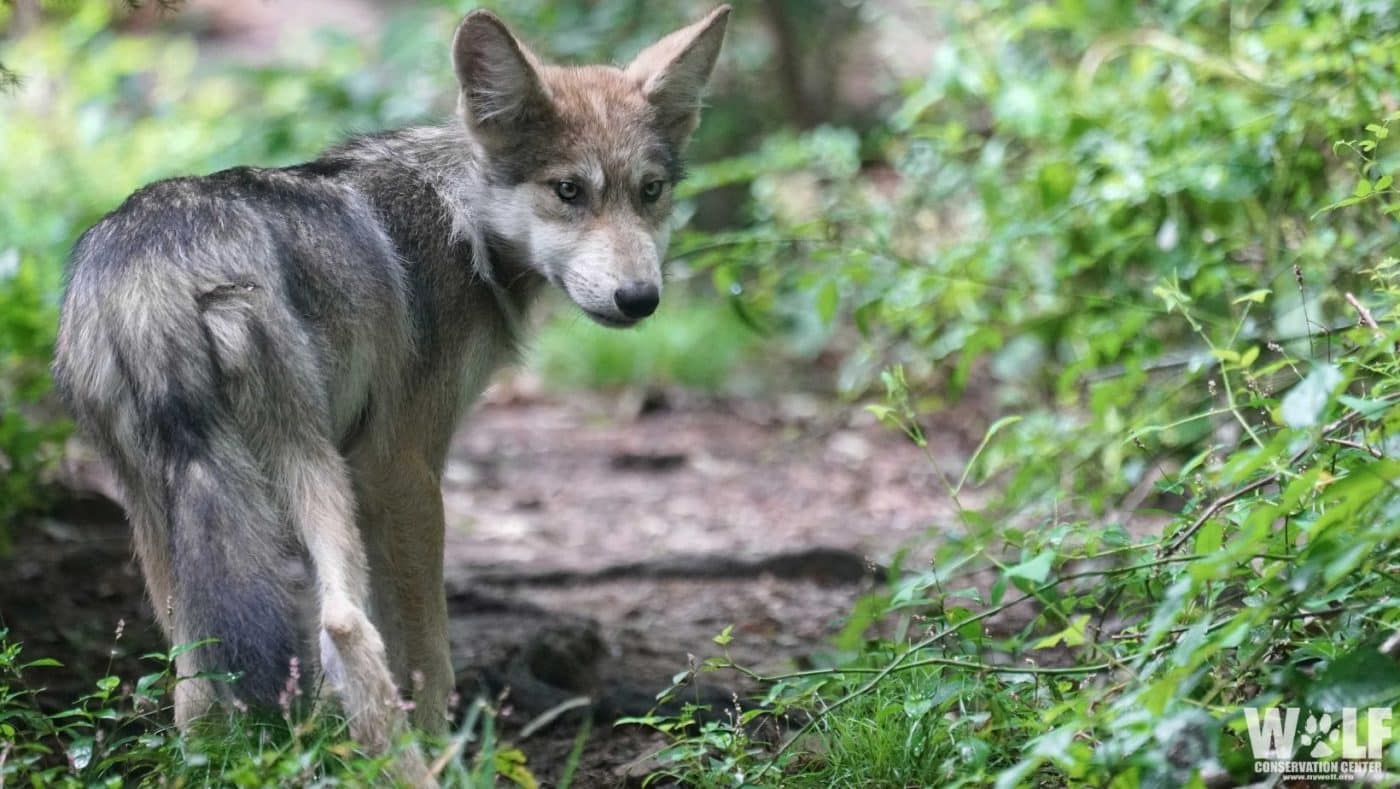 As we kick off Wolf Awareness Week, which runs from October 15th-22nd, we have several pieces of exciting news and ways you can get involved in your support for wolves. Throughout this week, we're reminded of the beauty of wolves, the importance of conservation, and the difference our collective actions can make.
A Wild Victory For Mexican gray wolves
It's a moment of joy and reaffirmation. Last weekend, the United States Fish and Wildlife Service (USFWS) field team stumbled upon a surprise – a wolf born and raised at the WCC now strutting his stuff in the wild! Known as m2821 or "Slides," thanks to a naming contest by our partners at Great Wolf Lodge, this wolf represents a remarkable success story. Born to Trumpet this past spring, Slides was given a chance to thrive in the wild through cross-fostering, a process that places captive-born pups with wild packs. Today, he roams with the Hail Canyon pack. You can track his adventurous journey using this linked map. Navigate to quadrant 16A and zoom in to the cluster of hexagons – he's in a group of 5 "dots".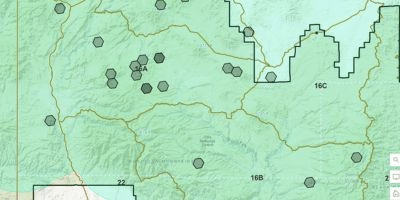 The field team was able to confirm that Slides is now five months old, weighing a healthy 32 lbs. While we believe other cross-fostered wolves from the WCC have survived over the years, Slides stands as a testament to the effectiveness of this strategy as one of several tools in the toolbox for Lobo recovery. This wouldn't have been possible without your dedication and contributions. Want to delve deeper? Check out this CBS news segment detailing our involvement in the cross-fostering program and the wider efforts of the Saving Animals From Extinction (SAFE) program.
The WCC Partners with Great Wolf Lodge for a Conservation Initiative
This Wolf Awareness Week, we're ecstatic to announce our groundbreaking partnership with Great Wolf Lodge. Imagine blending the thrill of indoor water parks with the mission of wolf conservation!
From today (October 16th) to Sunday (October 22nd), book your room at the Great Wolf Lodge using our unique link and contribute doubly to the cause. Every booking from that page leads to a $10 donation to the WCC. And here's the howling good part: one lucky guest gets a chance to experience 'Sleeping with the Wolves' – a magical night at the WCC accompanied by the mesmerizing howls of our resident wolves.
"Cultivating awareness is the first step in meaningful conservation," says Caleb Alexander, our Media and Communications Manager. This partnership not only amplifies our conservation efforts but nurtures a deeper understanding of the integral role wolves play in our ecosystems.
A Webinar Not to Miss
Join us on Thursday, October 19, 2023, at 5 pm ET for a riveting discussion with Dr. Aby Sène. Focused on the significance of community involvement in wildlife conservation, Dr. Sène will walk us through the annals of conservation history and the urgent need for an inclusive approach in our endeavors.
About the speaker: Dr. Aby Sène is a beacon in Parks and Conservation Area Management at Clemson University. With her deep dive into the colonial structures of power in conservation, Dr. Sène illuminates crucial issues, highlighting the intricate dance between nature, socio-economic development, and cultural heritage.
As we gear up for Wolf Awareness Week, let's remember the spirit of unity, conservation, and coexistence. Whether it's cheering for Slides' wild journey or booking a fun stay at Great Wolf Lodge, your involvement makes a difference. Here's to a week of discovery, advocacy, and roaring support for our beloved wolves!