Wolf Pass Preview: Behind the Scenes in Wolf Conservation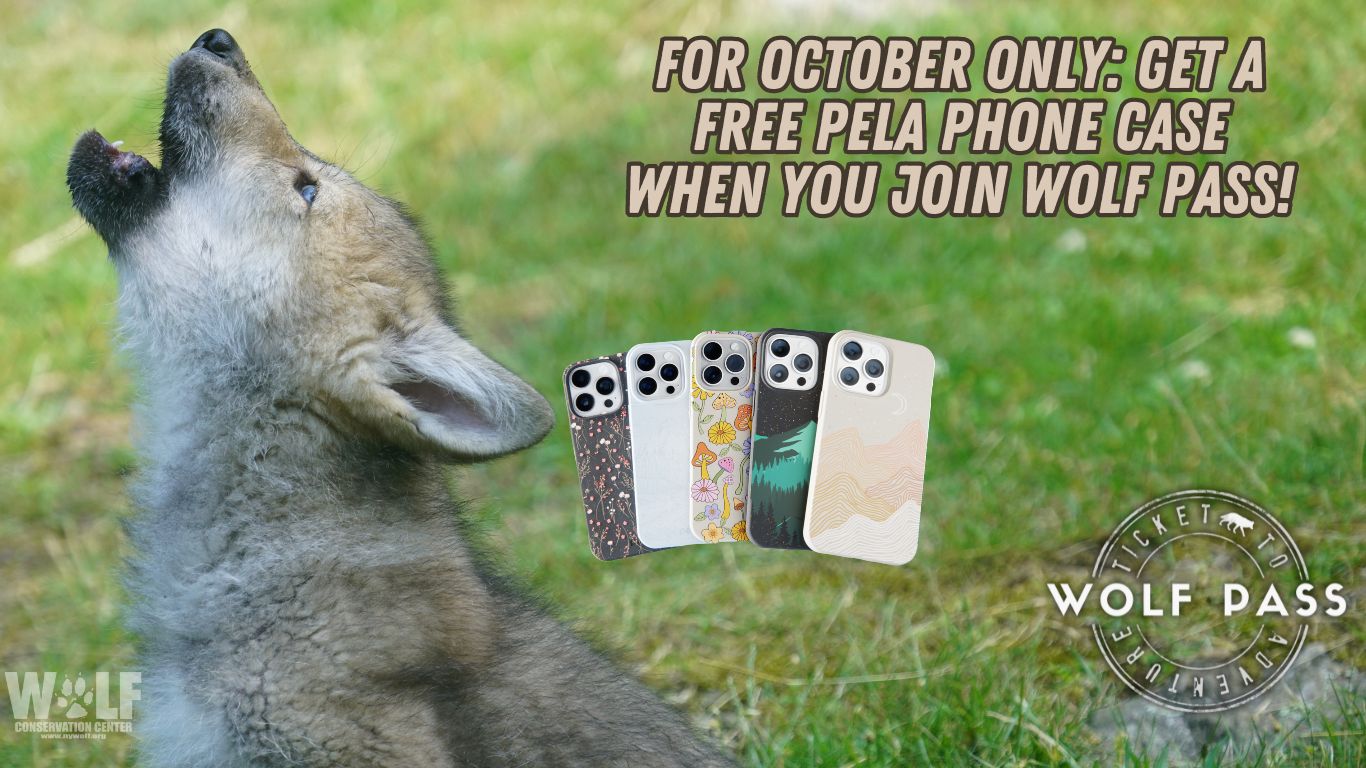 Did you know we have a monthly subscriber option at the Wolf Conservation Center? Wolf Pass is a ticket to adventure and a community where you're making a difference, every single month. When you join, you get inside information, behind-the-scenes content, and special offers all while donating to a cause you're passionate about for a low monthly fee. Right now, when you join before November 1st, you also get a promo code for a free Pela phone case of your choice (a $70 value)!
Not sure what to expect? Below we're giving you a very special Wolf Pass preview today for free. The following blog is set up exactly like a typical Wolf Pass email you will receive once you sign up, including exclusive content that usually only our Wolf Pass Wolfpack gets to see.
Wolf Pass: Fall at the WCC
Dear (Wolf Pass ID, when you join, you get assigned a real wolf ID number),
Fall is always an exciting time at the Wolf Conservation Center. The leaves are changing, the wolves are starting to pack on their winter coats, and the staff and volunteers at the WCC are all chipping in to perform health checks on the 29 wolves that call the WCC home.
Many wonder about our health monitoring process for our wolves, especially since many of them or their offspring could one day find a path to wild release, like the exciting update we got on Slides earlier this month. Ensuring their well-being is paramount to us. We observe them up-close whenever possible, but also rely on webcams for regular monitoring. Additionally, comprehensive veterinary checks offer a hands-on approach, including vital vaccinations and blood tests. Following the protocols of the Saving Animals From Extinction (SAFE) plan, our Mexican Gray Wolves and Red Wolves receive annual vet visits.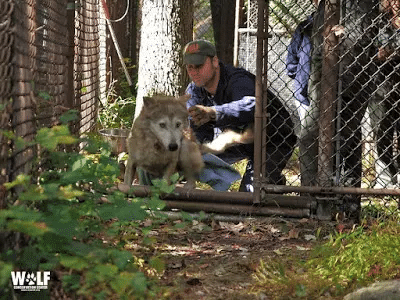 To facilitate these check-ups, we guide the wolves from their expansive habitats into capture boxes – structures resembling large doghouses but with detachable roofs. Once safely inside, our volunteer veterinarian commences the health examination, which includes vaccinations, blood tests, and noting vital statistics like heart rate, temperature, and weight.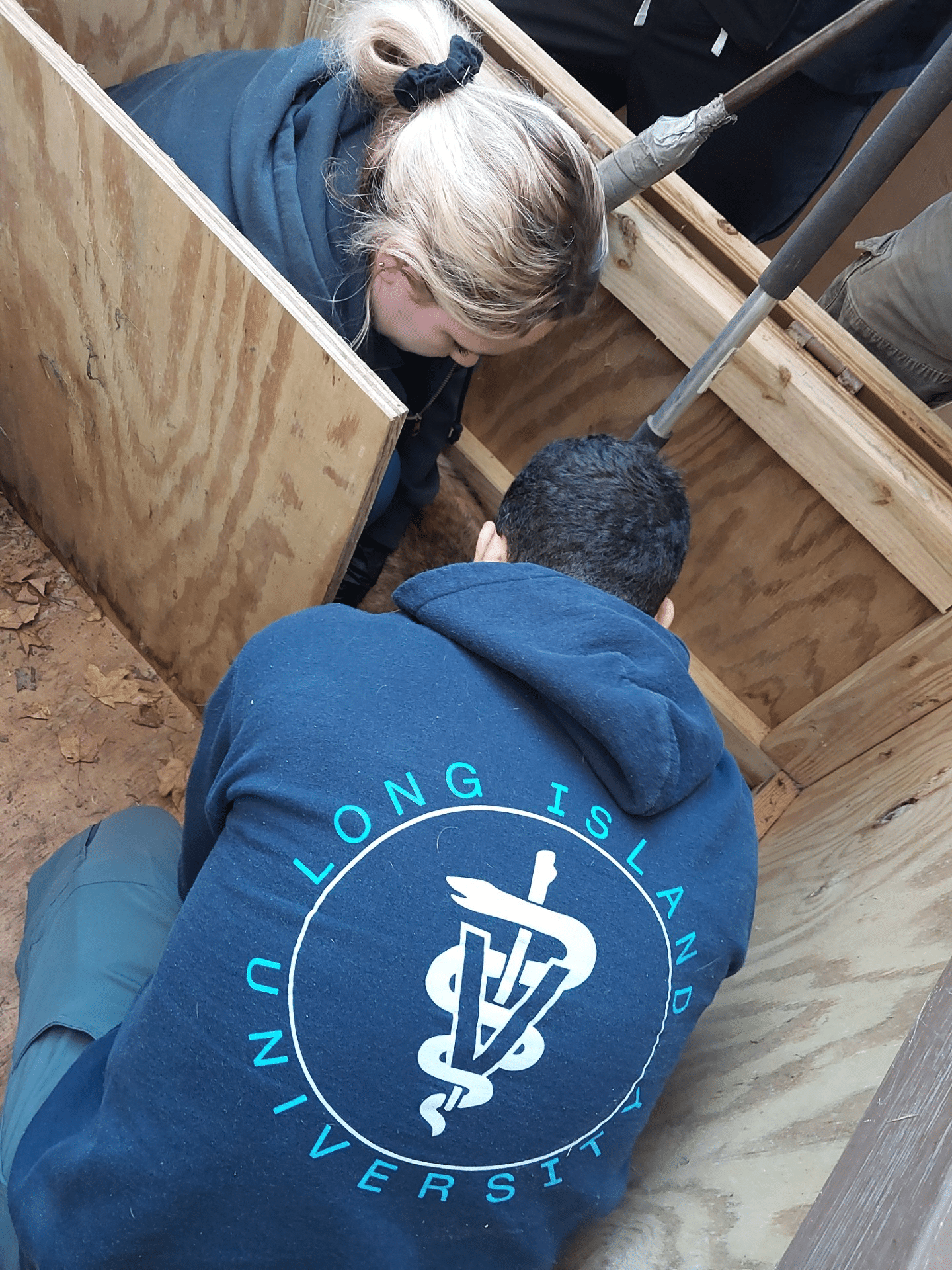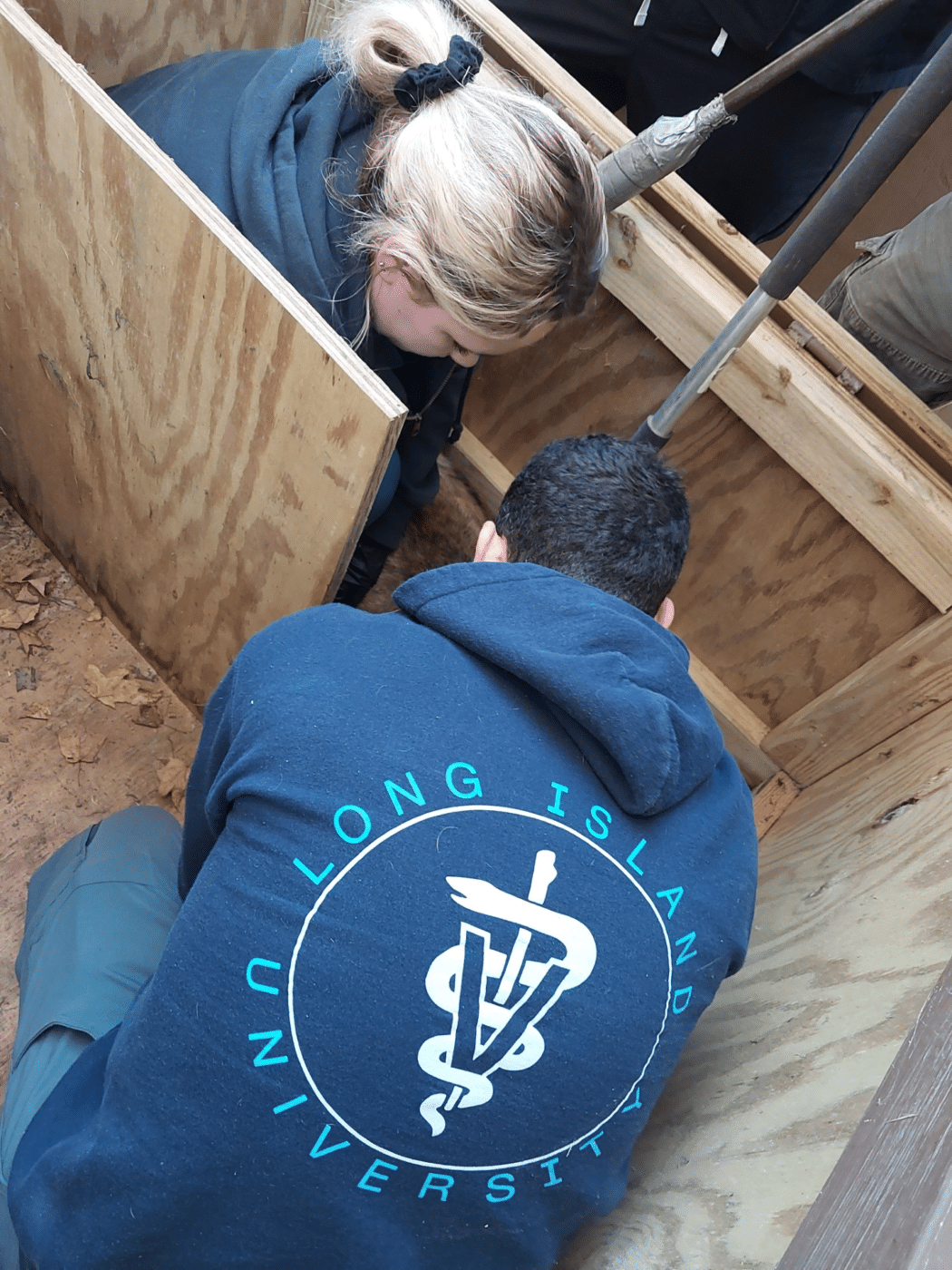 A big thank you goes out to Dr. Romano and his student volunteers from the Long Island School of Veterinary Medicine. This is the beginning of several collaborative efforts with Dr. Romano and his students, giving the students experience in conservation medicine.
Wolf Pass: Red Wolf Research and Outreach
Did you know that the Wolf Conservation Center has its own research department? It's true. The Socioecology and Wildlife Research Lab (SWRL) is doing a lot of innovative research, via our two researchers, Joey Hinton, PhD and research associate Sunny Murphy. Hinton currently researches canids along the Gulf Coast, and we recently used our outreach to help push area residents to challenge a development project in the area.
In addition, Joey and Sunny have been doing some important research, which Sunny recently presented to the New Jersey chapter of The Wildlife Society. The case study attempts to look at socioecological and systemic reasons that red wolves were extirpated in Alabama to near extinction, and what that can teach us as we attempt to educate folks moving forward as we continue to rebuild a very fragile population. Joey also spoke about conditions facilitating hybridization between red wolves and coyotes and how ongoing management limits coyote introgression in the wild red wolf population
It is critical that red wolves, coyotes, and red wolf-like canids have acceptance among the communities they live alongside, or we will likely see the cycles repeat that created the situation we see presently, with just 11 known red wolves in the wild today. Much of the current research is looking at how past beliefs and laws build on each other to build a paradigm that is tough to shake and leaves out the affected groups (ie red wolves and their advocates) from the conversation.
So Why Join Wolf Pass?
Ultimately, when you decide to join Wolf Pass it's a win, win, win. 1. You get exciting and exclusive updates and deals reserved just for our more ardent supporters. 2. You help the Wolf Conservation Center care for the wolves on site, and across the country through our advocacy and research projects. 3. For a limited time (until Nov. 1st), you'll get a free Pela phone case ($70 value) just for signing up.
The decision is a no brainer. Join Wolf Pass today and let's begin our adventure together!
*Already a Wolf Pass member? Let us know about someone who signed up due to your referral and we'll send you a special gift.*