Please note: The Wolf Conservation Center is temporarily closing to the public effective March 12 - June 30 as a measure to help slow the spread of COVID-19. We thank you for your understanding as we all look out for our wolves, each other, and our community in Westchester County, NY.

Visit the Wolf Conservation Center
Come meet the wolves! We do not allow drop-in visitors, so please sign up for one of our programs:
Learn about North America's wildest residents - wolves - during an education session with a WCC wolf expert.
Throw your birthday to the wolves! Guests will celebrate by creating "presents" for the WCC's Ambassador wolves and will learn about wolf behavior.
Summer Wolf Camp for Kids
Give the animal lover in your family a chance to thrive among wolves all week long!
Camp out overnight with the 40+ wolves that call the WCC home! With wolves, vultures, and open skies, we're New York's version of Yellowstone!
What Visitors Have to Say: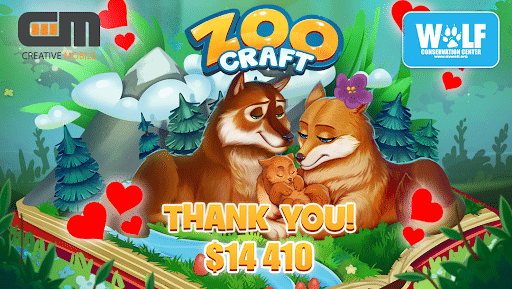 ZooCraft Collaboration Raises Money for Endangered Red Wolves
The charity event that was started by Creative Mobile and the Wolf Conservation Center in CM's game ZooCraft: Animal Family is coming to an end, and we're excited to announce that 1,500 people from around the world have donated to the WCC to support critically endangered red wolves! With only 10 red wolves known to…
We Need Your Help. Join the Fight to Save Wolves: