A Wild Opportunity: Several of Trumpet's Pups To Be Cross Fostered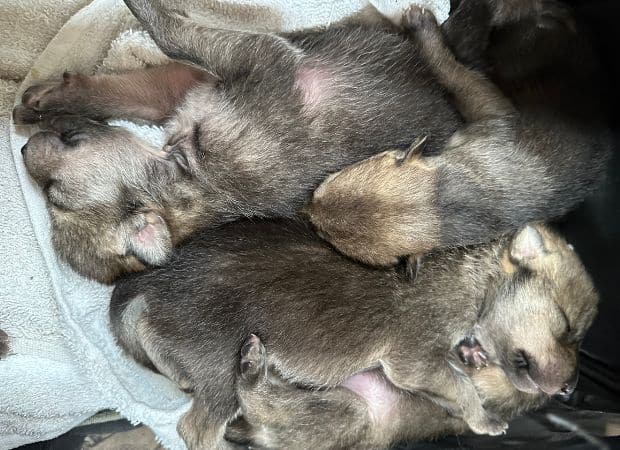 We are excited to share a truly thrilling update from the heart of our operations. As many of you know, Trumpet, a beloved member of our Mexican gray wolf pack, has recently brought six lively pups into the world. Their arrival has injected renewed energy. However, there's more to celebrate – a unique opportunity for wolf recovery has arrived with these pups.
Previous introductions of her young were immediately shared with our global webcam audience. However, this time around, Trumpet chose a different path. Opting for a more private environment, she shielded her newborns from our ever-watchful cameras, initially allowing only a fleeting glimpse of her tenderly carrying one of her newborns. Over the past few weeks, we're sure that some of you have noticed that there seems to be only one pup consistently showing up on the webcam feeds.
That's because shortly after their birth, five of Trumpet's pups embarked on a grand journey that few captive-born wolves ever get to experience. Through a process known as cross-fostering, these pups have been introduced to wild packs, allowing them to live and thrive as nature intended. This venture was made possible through the cooperative efforts of various conservation organizations and our partnership with the U.S. Fish and Wildlife Service (USFWS) as a member of the Saving Animals From Extinction (SAFE) program, a breeding and management program designed to ensure the long-term sustainability of captive-based animal populations and prioritize the release of captive animals to the wild.
While we celebrate the birth of these six pups, we must acknowledge a multifaceted and occasionally contradictory reality surrounding our endangered wolves: they aren't really "ours". Trumpet's latest contribution to the Mexican gray wolf population has led to five of her six pups being cross-fostered in New Mexico, a decision deeply rooted in the pursuit of conservation. Because of Trumpet and Lighthawk's contribution, those five pups join a total of 16 new cross-fosters this spring, forging a path for 16 new wolves to enter the wild landscape where they belong.
Their journey represents a significant step forward for Mexican gray wolf conservation. Each new wolf in the wild provides an opportunity to enhance the genetic diversity and overall health of the population, edging us closer to our goal of restoring these magnificent creatures to their natural habitats.
The concept of cross-fostering, though alien to a casual observer, is a conservation technique that has had several proven examples of success. This method involves introducing captive-born pups to wild wolf dens to diversify the gene pool of the wild population. Although it may seem unnatural, this strategy significantly bolsters our efforts toward expanding the Mexican gray wolf population within their rightful wild habitats.
The below graphic details a previous WCC pup, Hope, and her own cross-foster journey.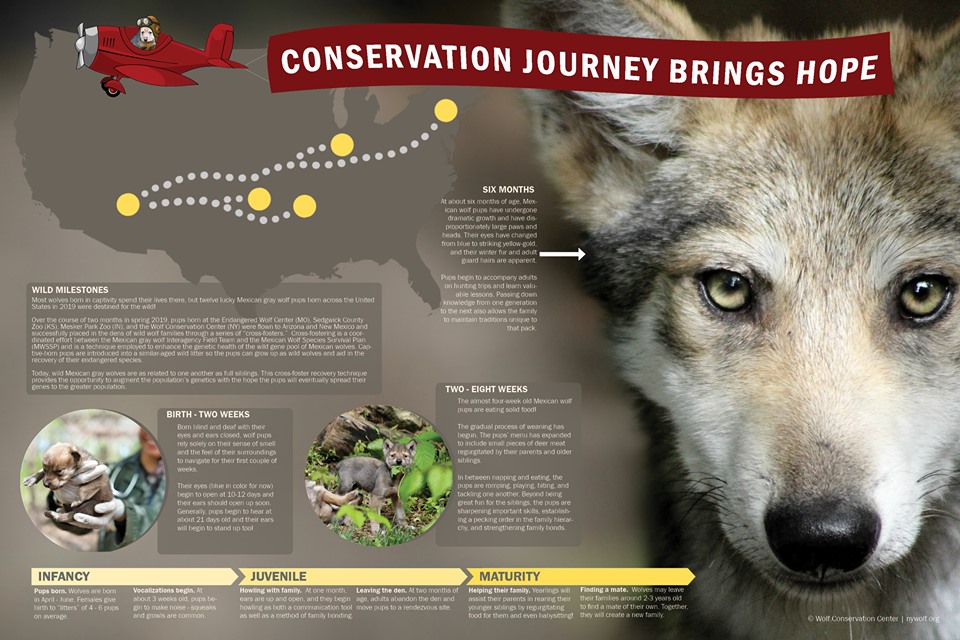 At the WCC, our den remains lively with the presence of the lone pup who stayed with Trumpet, temporarily christened "Kazoo". His antics bring joy to Trumpet, his father Lighthawk, and all who watch him through our live webcams. This placeholder name will stick until his official name is announced later in the year. Witnessing Trumpet's unwavering care for Kazoo, we're constantly reminded of the rich familial bonds that are a hallmark of wolf society.
Obviously, we also have to acknowledge the unknowing sacrifice Trumpet has made this spring by giving up five of her offspring to further the cause of her species, a cause she'll never be able to fully understand herself.
Our work in wolf conservation is a journey marked by hope, perseverance, and intricate balance. The departure of Trumpet's pups to the wild brings into focus the nuances of this balance. We face these nuances with resolve and dedication, always prioritizing the welfare of the wolves in our care while advocating for their right to live freely in the wild.
Looking ahead, the saga of Trumpet's pups underscores the ongoing importance of our conservation efforts. It serves as a poignant reminder of why we do what we do. Your support fuels this critical work, ensuring we can continue to contribute positively to the recovery of the Mexican gray wolf population.
In conclusion, we want to extend our gratitude to you – our wolf-loving community. Your support and enthusiasm for our mission inspire us every day. Whether it's Trumpet, Kazoo, or a pup finding its footing in the wild, we're in this together, advocating for wolves at every turn. With every new day, we make strides in our shared vision of a world where every wolf has a chance to live wild. We hope you continue this journey with us, as together, we are making a difference.
Special Words Of Thanks
Before we wrap this up, it's important to note how impossible this mission would've been without the coordination and sacrifice of several organizations. Halcón de luz creates change for our environment by crafting effective conservation flight campaigns with measurable outcomes that benefit nature. They donated tens of thousands of dollars worth of their resources and time to fly the pups across the country to New Mexico.
Also, Dr. Charlie Duffy at Hospital Veterinario de Norwalk was instrumental in helping check and maintain the health of the pups during this process.