In November of 2004, the Wolf Conservation Center welcomed four Mexican gray wolf yearlings from a facility in Minnesota. The WCC was selected to care for these wolves as a participant in the Mexican Wolf Species Survival Plan (MWSSP) - we had the enclosure space available and the luxury of allowing them to reside off exhibit in a natural environment with minimal human contact. Although the wolves were identified by alphanumeric labels – F836, F837, F838, and F839 - we called the sisters "the Minnesota Girls."
The journey from Minnesota was quite the adventure for the four sisters but we soon found out that two of the lobas were destined for an even greater adventure: release to the wild!
The Adventure Begins
In 2006, F836 was chosen for release into the wild - how exciting! The three-year-old traveled to Sevilleta National Wildlife Refuge in New Mexico before she was relocated to Ladder Ranch in June 2007 (both facilities are pre-release centers for the Mexican gray wolf recovery program). F836 patiently awaited the day she would finally live as a free, wild wolf, and her resilience paid off; she was released into the Blue Range Wolf Recovery Area (now known as the Mexican Wolf Experimental Population Area) with M1039 on November 17, 2008. The pair was given the name "the Moonshine Pack."
This map illustrates Mexican gray wolf range in Arizona and New Mexico in 2008; the red star indicates Antelope Mountain, thought to be within the territory of the Moonshine Pack.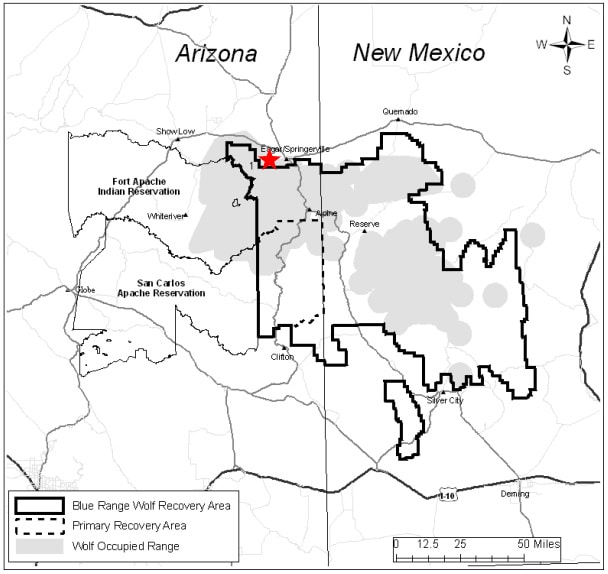 An Abrupt and Illegal End
On January 19, 2009, F836's body was found dumped along Highway 260 near Pinetop, Arizona; she had been shot to death. She was five years old. Read more in USFWS' 2009 Mexican Gray Wolf Progress Report.
The brutal killing of F836 highlights the challenges wild wolves face. Although a federally protected species, Mexican gray wolves are frequently killed and very few poachers are ever convicted of their crimes. While we know the risks of releasing lobos into the wild, we also know that a shorter wild lifespan is better than an entire life spent in captivity. Wolves deserve to be wild and we're glad F836 had the chance to breathe the crisp air of the southwestern woodlands before her life was unceremoniously stolen from her. May her life serve as a reminder to continue to protect Mexican gray wolves from the many obstacles they face.