Red wolf Thicket (M1804) joined the Wolf Conservation Center family in 2010 when he was born to parents Witch Hazel (F1397) and M1483. He and his brother Moose (M1803) were joyously welcomed as the first litter of red wolf pups born at the WCC, but Thicket was destined for a life of adventure!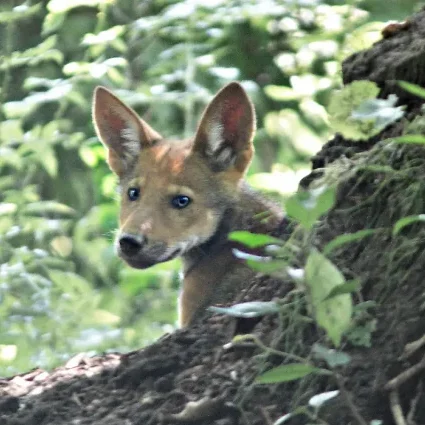 In 2013, he flew from the WCC to St. Vincent National Wildlife Refuge, a remote barrier island in the Gulf of Mexico, to be introduced to a potential mate on the wild landscape.
The Role of St. Vincent National Wildlife Refuge in Red Wolf Recovery
St. Vincent NWR is known as a "propagation island" for the North Carolina non-essential experimental red wolf population. Located just offshore the Florida panhandle, the island is home to endangered wildlife such as bald eagles; loggerhead, green, and leatherback sea turtles; migrating wood storks; and numerous prey species.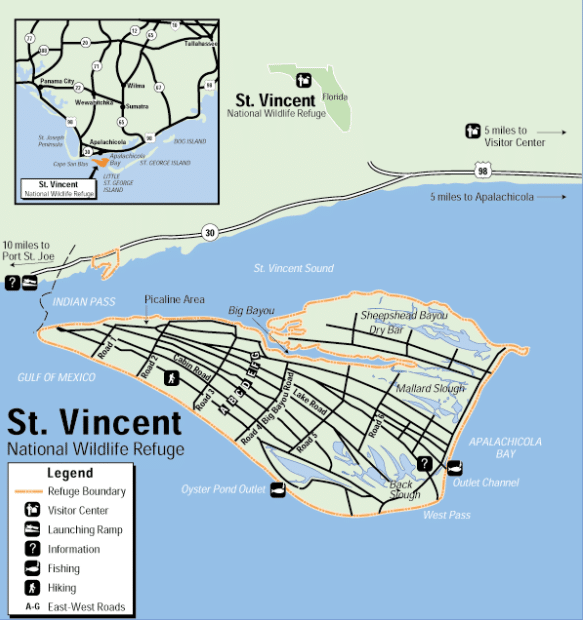 Thicket flew to St. Vincent NWR in December 2013, thanks to assistance from LightHawk. The island was home to a male-female pair that had lived together for four years but had not produced any known pups; in an effort to create a viable breeding pair, the island male was sent to the WCC and Thicket was introduced to the female (F1729) in his place.
The duo were placed in a large acclimation pen on the island for a period of time to allow them to familiarize themselves with one another and to provide Thicket time to adjust to the island lifestyle. After a few months, the pair was released in March 2014. Sadly, F1729 passed away the following winter, leaving Thicket alone until a new red wolf female could arrive.
In November 2015, "Little Red Wolf" (F2050) journeyed from the Jackson Zoo to live with Thicket and the match was very well received - the duo welcomed a male pup in the spring of 2016! Two more pups followed in 2018, with three more in 2019.
Sadly, Thicket passed away in the spring of 2019, leaving behind his mate and children. He experienced a life very few captive-born wolves do – a wild life. We take comfort in knowing that he awoke each morning feeling the ocean breeze and smelling the salty air, spending those precious moments with his family. He lived without abandon and inspires us to do the same.